Financial Aid & Admissions Application Workshops
Step- by – Step Financial Aid Support
Need help completing your FAFSA or California Dream Application? Join us to receive step by step guidance!
Upcoming Dates:
Wednesday, November 17th, 2021 from 4pm- 6pm
Wednesday, December 1st, 2021 from 4pm- 6pm
Wednesday, December 15th, 2021 from 4pm- 6pm
High School Partners Events
Annual High School Partner's Breakfast
We cordially invite all high school Counselors, Administrators, College/Career Technicians, and other high school senior support staff to attend our Annual High School Partners' Breakfast. This event is to inform our partners about any updates from Fullerton College
Date: October 20th, 2021 9:00am – 12:00pm
Join Zoom Meeting: zoom.us/j/98664313974 (Meeting ID: 986 6431 3974)
Jump Start to College
High School partners we invite you to request a virtual presentation for your students. Presentations can be tailerd to your specific needs
Types of presentations:
Fullerton College General Information, Career Education, types of Higher Education, North Orange Promise program, Super Strong Career Assesment
Click here to book a Jump Start workshop
Help your student get informed, be prepared, and get ahead from the comfort of your home. Let us be part of your journey!
4 Systems of Higher Education Edition
Learn about the 4 different sysyems of higher education: CC, CSU, UC, and privates. 
Date: October 19 6:00pm – 7:00pm
North Orange Promise Edition
Learn about the North Orange Promise program benefits, how to join, and much more!
Date: November 16 6:00pm – 7:00pm
Dual Enrollment Edition
Learn about the benefits of particiaptin gin Dual Enrolent and learn how your student can enroll
Date: December 7 6:00pm – 7:00pm
Males Achieving Success (MAS)
This program encourages 12th grade male students to pursue a degree by attending FC. The program focuses on welcoming Latino males into the Puente, EOPS, DSS, Honors, ESP, TAP and Umoja programs. Fullerton College visits MAS schools biweekly to give presentation about programs and services available. Staff also holds seminars to teach parents about higher education options so they can become informed advocates for their children. Seminars last 1.5 hours and are hosted at 10–12 high schools.
MAS @ FC Conference
This conference hosts 700–800 male students from local high school districts and aims to promote higher education and career pathways.
Conference Highlights: Understanding higher education | Career exploration and assessments | Exploring financial aid and scholarships | College student panels | Learning from college instructors how to be a successful college student | Understanding your personality | Learning from professionals in the community | Cultural awareness
START
(Summer Transition and Registration Time)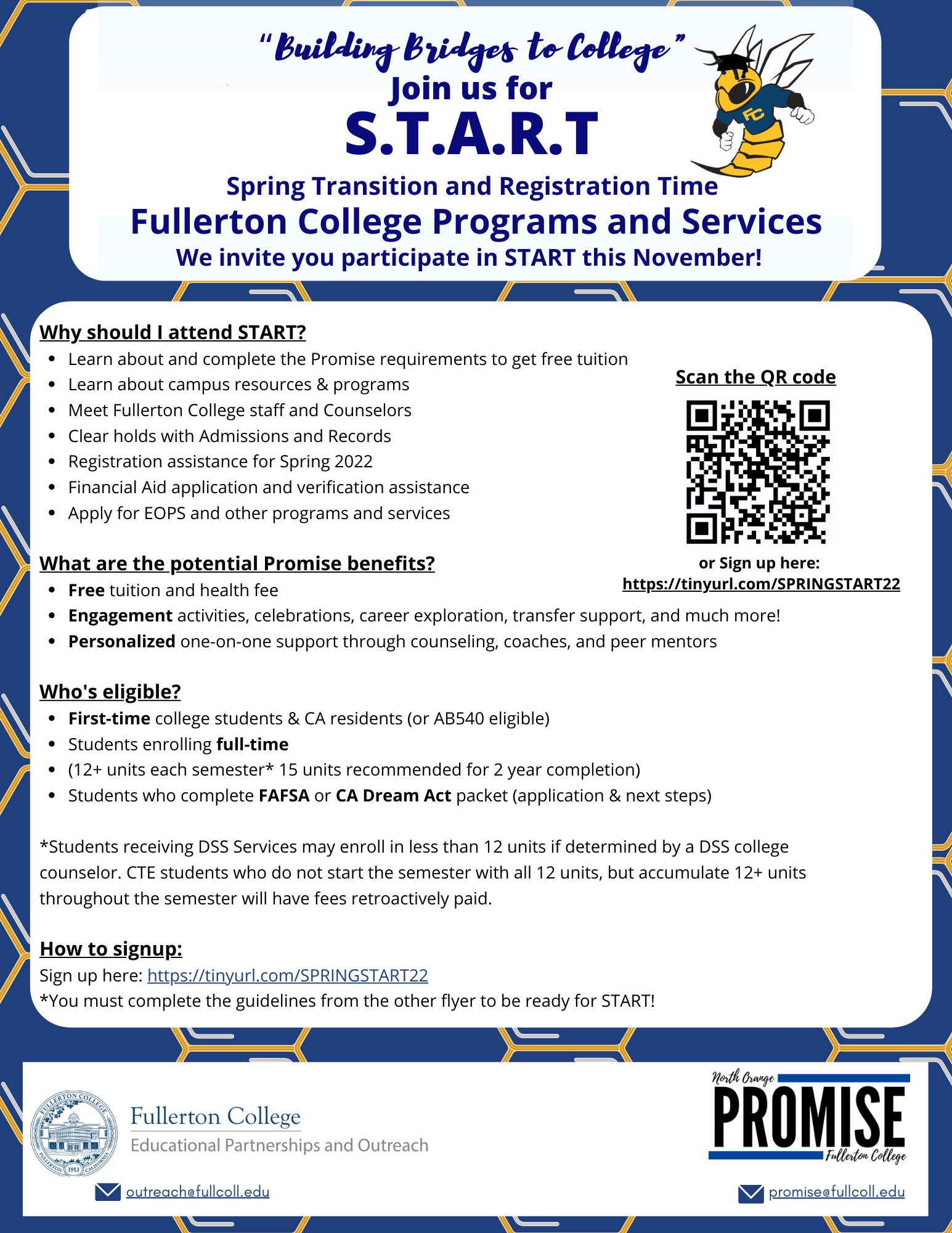 START WELCOMES NEW, FIRST-YEAR Students to FC!
Learn about the programs and services Fullerton College offers.
Understand the registration process and feel empowered to register alone.
During START you will:
Learn about the amazing support programs and services at Fullerton College and where to locate additional resources
Understand the registration process and feel empowered to register alone or have the opportunity to register with support staff
Complete any missing North Orange Promise eligibility requirements for two-years free tuition (if you qualify)
Foster positive relationships with other incoming students, faculty, and staff